OK, searching for easel ideas today. I didn't get around to making the chalkboard menu easel on Saturday, so I am trying to get my pattern figured out so I can start on wood cutting in the morning.
The easel above is very similar to the one I saw for sale from Hobby Lobby the other day for $35. The Hobby Lobby easel was a little too small for what we were looking for, but the easel above was posted by Dianna over at
Our Vintage Home
as a DIY! Just thought I would throw that out there in case you were hoping to make an easel yourself :0}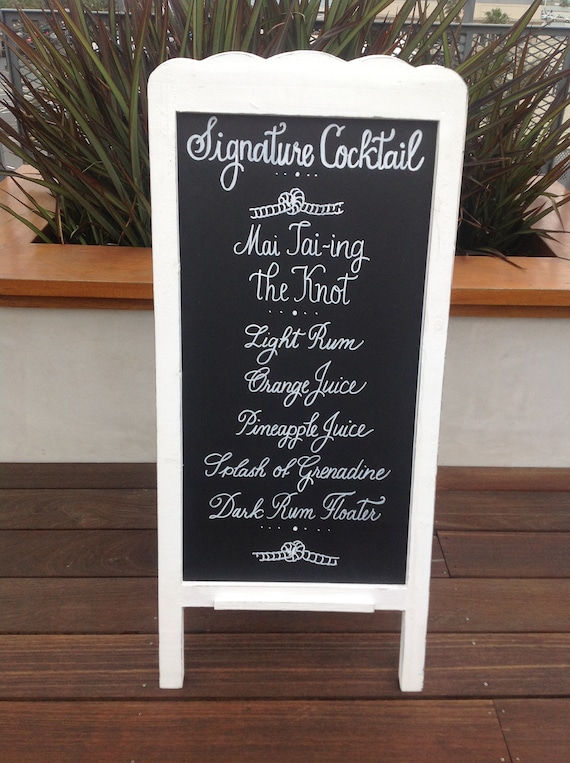 I was hoping for something a little fancier though for the wedding.
This Etsy listing
by Laura at
LHCalligraphy
is beautiful. I love the scalloped top. It is for sale for $185 last time I checked.
I thought about sculpting the sides too, kind of like
Genia's Easel
over at Art For You.
Very cute.
I totally LOVE the way the INSIDE of this easel is cut. I like this idea more than shaping the outside of the sides. If you want this one, by the way, it is for sale over at
TheeVelvetG
love
for $250. Mine won't be any where near that nice. I, as of yet, don't own a router.
This chalkboard menu is also darling. I think you could make one from a cupboard door or something. So cute
Katie
over at Sweet Rose Studio.
I think this
Crib-Easel
transformation is amazing! What a darling use of an old crib. Not gonna happen for this wedding, but such a cute idea.
See, the top of this is more what I was envisioning. This is a one of a kind find antique frame for sale over at
Restoration Lighting Gallery
for $399. Sorry Shelby :0} Not gonna be able to get that, as if you knew you wanted it.
Well, I only have flat wood to work with and about two minutes to put it all together. We shall see what my easel becomes...