These yummy looking Orange Cookies are at the top of my Gotta do file. How sexy is that picture!?! I have "Get a Better Camera, and an alternate life so I have time to play with it" also at the top of that list. Anyway, you salivate all about this recipe at
The day after I saw this post, I was at Goodwill and found a suitcase just like this. Of course I bought it! It came home with me and has been used for just about everything by the under-3-foot people that come through this house, everything but a dress-up suitcase. It is on my list.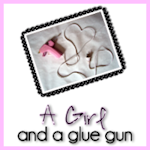 These table cloth weights are up there. I had just had a picnic with a flyaway table cloth so these looked especially appealing when they entered the gotta do file in my bookmarks. Think of the possibilities! Pumpkins, holly leaves and berries, valentine hearts...you get the picture.
How cute are these!?! I wonder if I could get Eli to wear one. I am not sure they are at the top of my 9 year old's list of things he needs to wear, but I love them. I am sure I can find a boy out there I can make one for. Check out
A Lemon Squeezy Home
to see how to make your own
These room signs I absolutely LOVE!!! At
A Place For Us
she made these to go over each door down the hallway. How Cute!!! That is not all, recently she added this to her blog. I did my usual skim through the pictures and had to go back and read to figure out what it was exactly. These are the keys that belonged to her husband's grandma. There is an enchanting story of how they got them and how she came to make this lovely board to display grandma Mimi's keys. I LOVE the last one which says...Heaven. Oh, tears forming. You can see all of this at A Place For Us.
I can't wait to have a reason to make these party hats!!! I thought they were soooo cute and there are sooooo many possibilities. I found them at
Girl. Inspired
. She also had this darling little dress...
and you know what a sucker I am for darling little dresses! I can't wait to give this one a try.
Instead of trying any of that, I am going to can hamburger. Fun, huh? It isn't even for me. It is for an activity some ladies from church are doing. They need the hamburger already canned, and that is going to be my job today. Some 30 jars. I am trying to be excited. But you can bet, when I am through, there will be some crafting going on!